Wise Two Started graffiti art in mid 2006, Wise Two has now become one of the reputable pioneers of graffiti art in Kenya; Wise Two has been and played an integral part in bringing graffiti art to the mainstream audience in East Africa. Wise Two is also accredited with creating an awareness of the Kenyan graffiti art movement amongst the global graffiti community through his involvements in various international exhibitions and events. Wise Two represents 3WG (3rd World Graff) and OAC (Operation Art Core).
His style is crafted through years of research based on stencil art and African/psychedelic patterns that create an intricate and detailed form of art on huge walls.
Wise Two flaunts an impressive portfolio, exhibiting and collaborating, group and live demos locally, globally with artists such as Skope Woner of the legendary Kings Destroy crew (started by a heavy weight named Cope 2) from New York, as well as Kyot from Germany and Deaz from Singapore.
In March 2012 WiseTwo was in Vancouver BC – Canada painting with Steve "thecreativeindividual" and Earone.
In November 2012 WiseTwo was in New York City for the 1st World Youth Alliance International Arts Forum that took place in Manhattan.
He also painted in Brooklyn, and is currently working on a documentary with Emmy Award winner Lisa Russell.
In February 2013, WiseTwo with Brooklyn Based Muralist and Educator, Joel Bergner and other Kenyan graffiti writers painted a train before the March 4th 2013 elections which was labeled the "Kibera Peace Train". This was then featured on Cable News Network (CNN) and other media outlets.
In the same month (February 2013) WiseTwo painted his 20 meter of wall space at the Jomo Kenyatta International Airport, Nairobi – Kenya. Making him one of the only artists to paint at an airport worldwide, and this was an initiative that was propelled by Basco Paints, which was part of their Corporate Social Responsibility campaign labeled as spray for change. For more info visit: www.sprayforchange.com
Wise Two has also ventured in to canvas paintings for gallery installations, giving him a powerful approach to spreading his message of political, social and economic awareness mixed with aesthetically pleasing art works.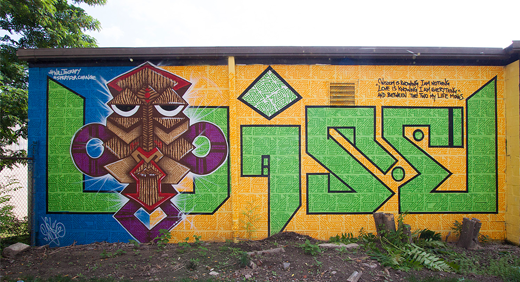 Photographs by Mark Deff and Jason Wilder, please contact WALL\THERAPY for more information.