Based in Solothurn, though with Turkish roots, the artist is part of the photorealist scene. He mostly paints using acrylic rollers and with the help of brushes. An experimental use of UV-light sensitive paints or solvents has produced astonishing effects in his large-scale works. Pictures are painted in delineated spaces in a single color, while managing to retain a photorealistic character. Through the use of both matte and gloss mixes of the same tones, an image is created that only emerges in its full detailed splendor when hit by light in a certain way, flashing up as the viewer walks past, and revealing a mysterious outline when viewed from a distance. In 2013 he created together with the Swiss artist Wes21 a big work at the 5 Pointz Building in New York City, which gave him a huge publicity. In 2014 he participated the Richmond Mural Project in Richmond (VA). Onur grew up in Zuchwil in Switzerland's Solothurn canton. After leaving school he completed training as a painter, followed by an apprenticeship as a theater painter in Solothurn. Onur then trained as a graphic artist at a advertising agency in Basel, going on to work in the profession for a year in Bern. In 2007 and 2008, he returned to the theatre, this time in Lucerne. Since 2008 he has been working as an painter.
WES21 / REMO LIENHARDThis very young artist (*1989) from Biel has found his own style early in his career. He has an ability to astonish the viewer with his motifs and the incredible precision of his spraying technique.Remo Lienhard started out in the graffiti scene, though this is only seldom apparent in his work. That said, he works with spray can next to oil and acrylic. In recent years he has perfected his technique of producing high detail. Paint is applied, and before it dries it is "processed" using different implements. This technique makes it possible to conjure up incredible effects in a painting.Remo Lienhard intends to make a strong impression and is willing to go to any length to do so. For example, he has sometimes incorporated LED bulbs into his works in order to create a realistic effect. Photorealistic depictions of often illusory creatures captivate the viewer with an accuracy of perspectives, astonishing shaping and harmonious composition.A particular focus of the artist's works is the combination of nature and industry. Animals meld with devices and industrial products in a process of metamorphosis. The viewer is made to feel uncertain: have nature and industry harmonized, or is the process taking some other direction? Every picture is a window in another world and contains a story on a simpler level that rekindles and inspires the imagination. He has also begun to transform some of his fantastical figures into sculptures.Remo Lienhard grew up in Biel, Switzerland, experimenting with the spray can at a very young age and soon gaining a strong reputation in the scene. In 2010 he completed training at the College of Design in Biel and has since then applied himself to producing art and working on various design jobs, including for music festivals and CD covers. His murals have been an attraction at a number of different events like Richmond Mural Project in Virginia.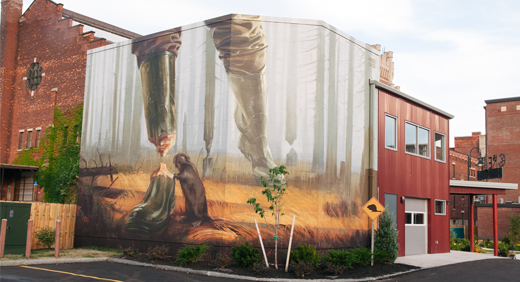 Photographs courtesy of the artist, please contact WALL\THERAPY for more information.