I was born, they fed me, educated me, instructed me, and shaped me, but no one ever made me "discover" graffiti. We came together by chance upon seeing and analyzing one another (with the street between us) and we taught one another, getting to know each other in the moment just before my pre-teen period (it was either masturbate or paint something). First I thought that it could be a pastime, and then I realized that I had quit cigarettes but not graffiti. On the contrary, I felt that it was growing more each day… there is not a day when I don't think about what to paint, where to paint, how to paint, what day, what hour, basically organizing my life around it.
At the end of this new decade I realized the value of the message left behind with 48 hours of this exercise (painting). If one thinks that revolutions are told on walls, those hours can say a lot, let's say they can form a direct protest of society, by society. I think that graffiti is a point of connection for people, at least that's what I like to explore with this beautiful activity.
I discovered my style by accident, when love (which may be the culprit behind mankind's greatest idiocies) brought me to creating the face of an ex girlfriend and I saw that it came relatively easily to me… maybe I made her a little fat and her nose a bit crooked, but from a distance it looked just like her. The thing is that I had always been fascinated by the human body, the meat that hides the bones, by what we hold inside, and more than that, its simple function, no?
So, to combine a small obsession for the body with a love of experimentation with people, the only way to do it is with the idealization of something, done with a religious slant. Religion has put symbols in our heads that come out even today in our ways of representing the body. Each person sanctifies when they ignore.
This is the result of my work, to give importance to the inconsequential, to "deify" an unremarkable person. For example when I paint my brother and people ask: "Who is this?", thinking that because I'm painting his face on a wall of 7×5 meters that it must be someone important. When I respond: "It's my brother" they look at me sadly and say: "Oh the poor boy died, didn't he?", and I answer: "No, I think he's at home watching TV" . . .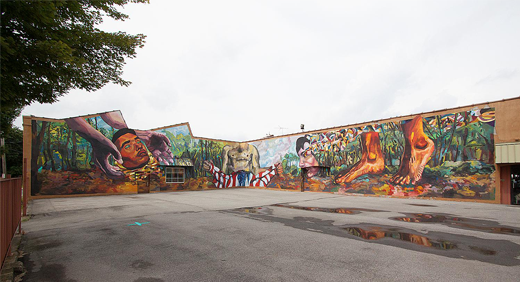 Photographs by Martha Cooper, Sara Czernikowski, Mark Deff and Helio Sun Photography, please contact WALL\THERAPY for more information.