Alice Pasquini is a visual artist from Rome who works as an illustrator, set designer, and painter. Alice's preferred canvases are city walls and she's traveled widely, bringing her artwork to life on the streets of different cities across the globe, such as Sydney, New York, Barcelona, Oslo, Moscow, Paris, Copenhagen, Marrakech, Berlin, Saigon, London, and Rome. Born in 1980, Alice graduated from the Academy of Fine Arts in Rome, and has lived and worked in Great Britain, France, and Spain. While in Madrid she completed coursework in animation at the well-respected Ars animación school and, in 2004, obtained an MA in critical art studies at the Universidad Computense.
Through her art she strives to demonstrate the small moments between people and their connections to one another. She wishes to represent human emotion and explore these emotions from a different point of view. Alice is particularly interested in the representation of women in art and the desire to show strong, independent women in a way that differs from the highly sexualized image of femininity that is typically seen in society.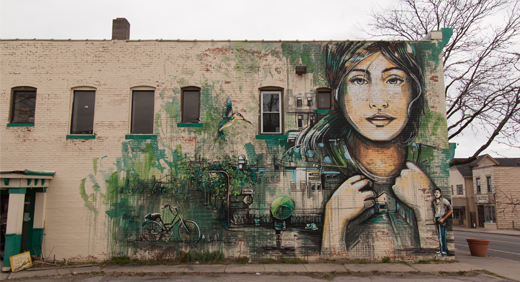 Photographs by Mark Deff and Helio Sun Photography, please contact WALL\THERAPY for more information.